NBBQA Partner: National Turkey Federation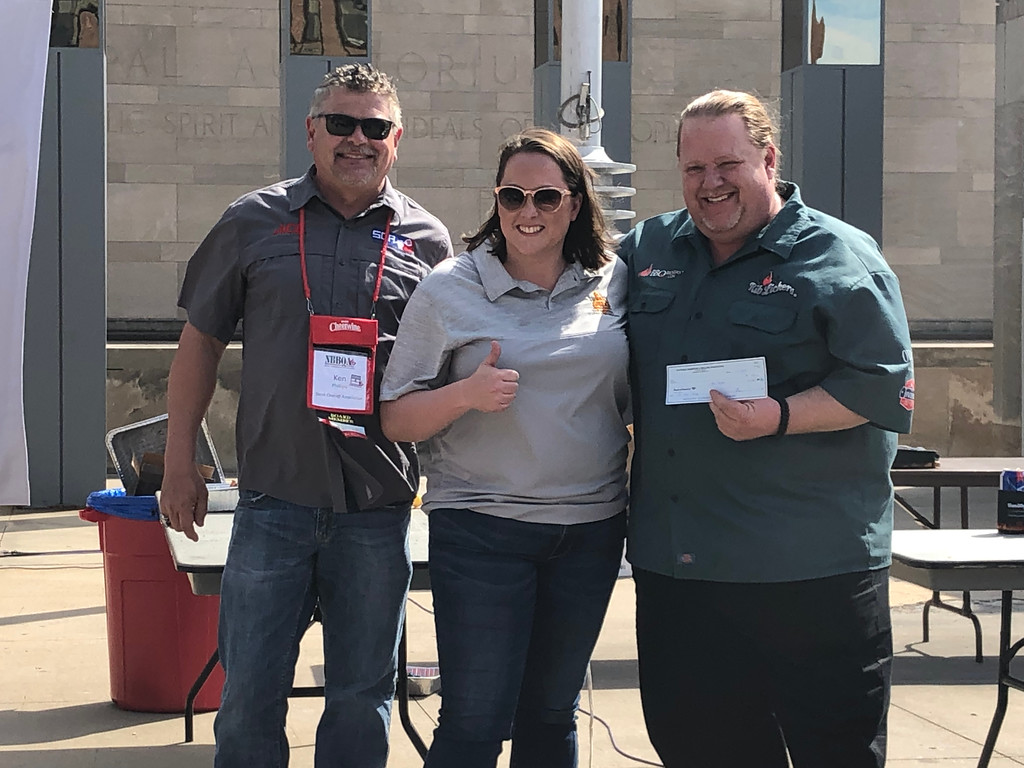 When Three Dog Night sang, "One is the Loneliest Number" I'm pretty sure they weren't giving business advice to those who were looking for partnerships. One of my heroes growing up was the Lone Ranger, (with a hearty Hi Ho Silver!) who you think by his moniker was a lone, but he wasn't, he had Tonto and his horse, Silver. Batman had Robin. There wouldn't have been a Dean Martin without Jerry Lewis. Fred Astaire wouldn't have been as great a dancer without Ginger Rogers, who could do what he did, but backwards and in heels. The point is, partnerships have a way of complementing and elevating each other farther than one would go alone. This is also true in the business world, especially in the NBBQA and our partnership with the National Turkey Federation.
We had the opportunity to join forces with the NTF at this year's BBQ Bash where they hosted one of the ancillary contests, which was won by Dewayne Poynter (as pictured above). But before we talk about Turkey Smoke lets learn a little about the National Turkey Federation. To do this I asked NTF Vice President of Communication and Marketing, Beth Breeding to help us learn more about the National Turkey Federation and Turkey Smoke.
Who is the National Turkey Federation?
The NTF is the only trade association solely representing the turkey industry. Their members encompass the entire turkey industry, including growers, processors and industry partners. NTF was founded in 1940 and is headquartered in Washington, D.C. Read more about them here: https://www.eatturkey.org/about/
While they're responsible for a number of initiatives in support of the turkey industry, one of their areas of focus is promoting turkey as a protein choice and implementing targeted outreach programs (like Turkey Smoke!) to increase nationwide awareness of turkey products.
The Purpose and Mission
The National Turkey Federation is the national advocate for America's turkey farmers and producers, raising awareness for its members' products while strengthening their ability to profitably and safely deliver wholesome, high-quality and nutritious food to consumers worldwide.
Turkey Smoke
If you've dined at just about any barbecue joint around the country (especially Texas), you've most likely seen smoked turkey on the menu. Not to mention most everyone reading this has probably smoked a turkey at Thanksgiving, so you know turkey isn't new to the BBQ scene. Three years ago the American Royal even added turkey as an additional category. And we think turkey burgers can smoke other options any day. But, in a sport that craves more protein, there is room for turkey to grow. The goal of this industry-wide initiative is to see this lean, flavorful protein become an expected or common option in competitions, on barbecue menus and ultimately on backyard grills.
We've already had hundreds of barbecue teams compete in Turkey Smoke this year, and we are excited to be back at the American Royal for the third time. We encourage BBQ teams to participate in Turkey Smoke when they see it around and ask contest organizers to add Turkey Smoke to one of their local events.
There is so much more we can learn from NTF and tons of additional BBQ fun to be had with Turkey Smoke, I just wish we had more space. If you're at the American Royal this September stop by and say HI to the folks of the National Turkey Federation and thank them for being one of our great partners in the BBQ world.