'23 Conference and Expo Heads To Orlando
Date posted
September 1, 2022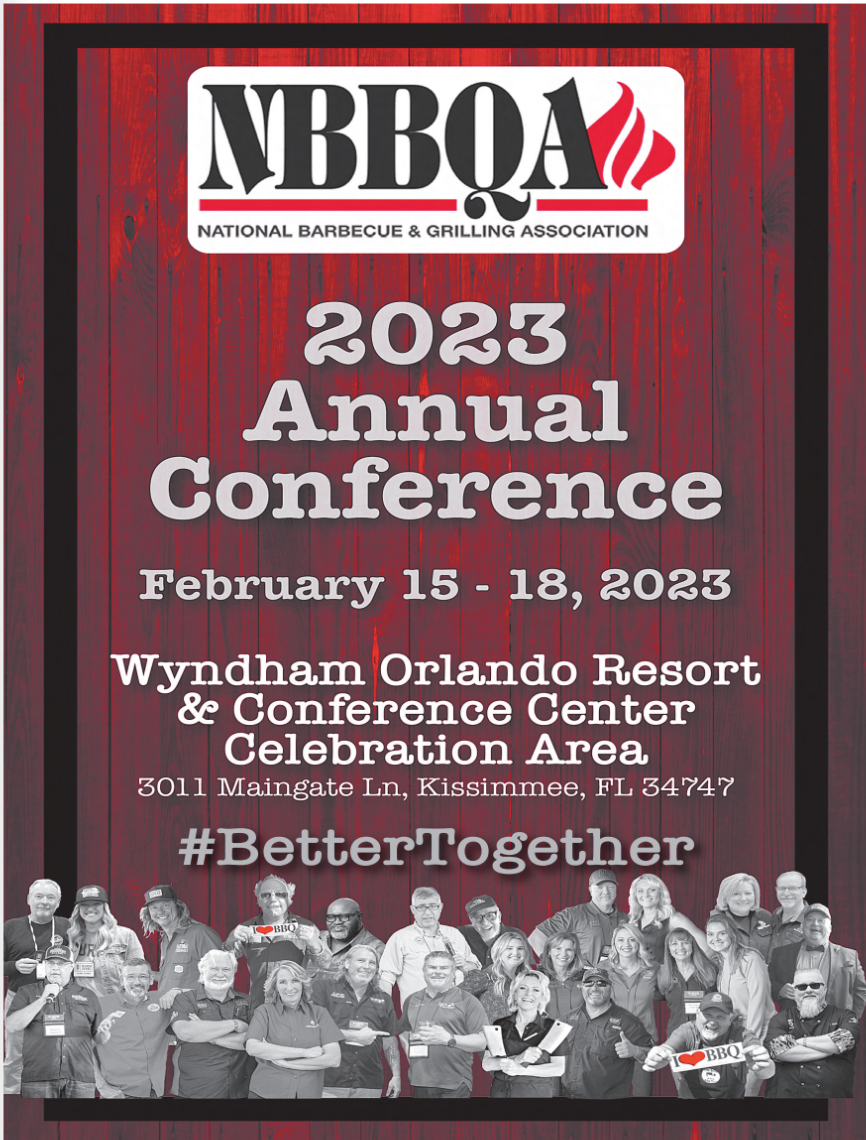 The National Barbecue and Grilling Association (NBBQA) has secured a contract with the Wyndham Orlando Resort & Conference Center to host the 2023 Annual Conference and Expo. The event is slated for February 15-19, 2023, in the sunshine state of Florida, only a mile from Walt Disney World Resort®. The theme for this BBQ and Grilling mega event will be #BetterTogether. Registration for the event will begin on October 15, 2022, at the organization's website www.NBBQA.org.
Association managing partners Kell and Janet Phelps are working overtime to ensure this upcoming event will showcase the 'Best of the Best' from our BBQ and Grilling family while providing valuable educational sessions, taught by experts in their prospective fields. Janet Phelps said, "The support for the upcoming event has been tremendous, and I know it will continue to gain momentum as we work towards releasing the finished event." The entire membership is encouraged to keep an eye out for more information on the upcoming event.

Major help organizing the event is already coming from members Craig Carter, who is helping with the opening event, known as the Smoke Fight Reception. There will be an All-Star BBQ and Grilling Throw-down for attendees to enjoy. Rob and Amy Dobb are helping NBBQA with the annual Bus Tour, as their vast knowledge of barbecue in the area will be priceless in setting up this event. BBQ Hall of Famers Lee Ann Whippen and Ray Lampe are on board to help organize and plan the 12 different Educational Sessions. The sponsorship support is also underway, with early support from Old World Spices and Cheerwine already onboard. NBBQA looks forward to seeing even more people and businesses step forward as we work on this exciting conference and expo.
The events that make up the conference and expo will start on Wednesday morning with the bus tour and end on Saturday evening with a Steak Cook-off Association double event awards ceremony. Below is a list of slated events that will make up this 2023 conference.

Wednesday, February 15, 2023

Bus Tour
Smoke Fight Reception
Thursday, February 16, 2023
Breakfast
Keynote Address
6 Different Educational Sessions
Lunch - Meet the Masters
Awards of Excellence Dinner and Awards
Friday, February 17, 2023
Breakfast
6 Different Educational Sessions
Lunch
Night of Fire
Rhinestone Cowboy Steak Challenge
Saturday, February 18, 2023
SCA Double Steak Challenge
NBBQA PitMaster/GrillMaster Classes