The Traditions and Flavors of Plank Cooking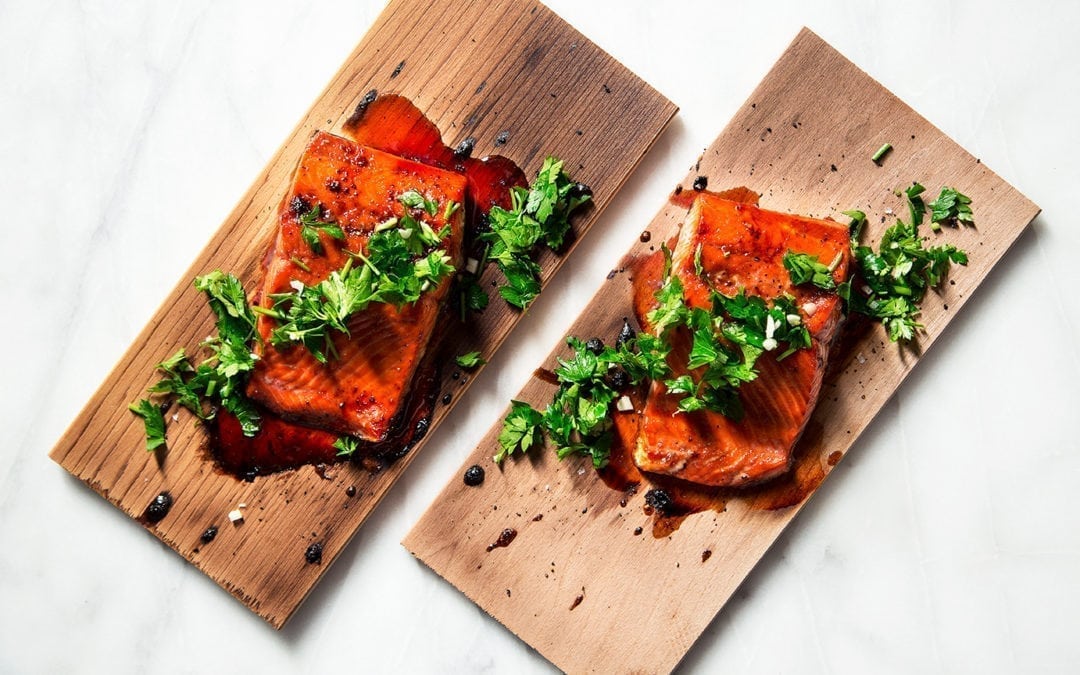 When Matt Curmi moved from the UK to work as head chef at a restaurant in Idaho, there was a word on the menu that perplexed him: "plank."
"I inherited a dish, cedar plank salmon, and that was my first introduction to it. To be honest, I wasn't totally sold on it," Matt said. "I didn't believe in it at the time. I don't think the restaurant was preparing it correctly so you weren't really getting that cedar flavor out of it."
So Matt did what any good chef would do — research and practice. What he learned after digging into the methods and history of planking opened his eyes to so many possibilities. Not just planked salmon, but pork, fruit, cheese, everything. You name it, Matt has probably cooked it on a plank.
Once he figured out his own techniques, a new world of cooking opened up to him.
As executive chef for Wildwood Grilling, which sells a variety of planks and wood grilling products, Matt is now an ambassador for planking.
"The biggest selling points for me are the flavor and the health benefits," Matt said.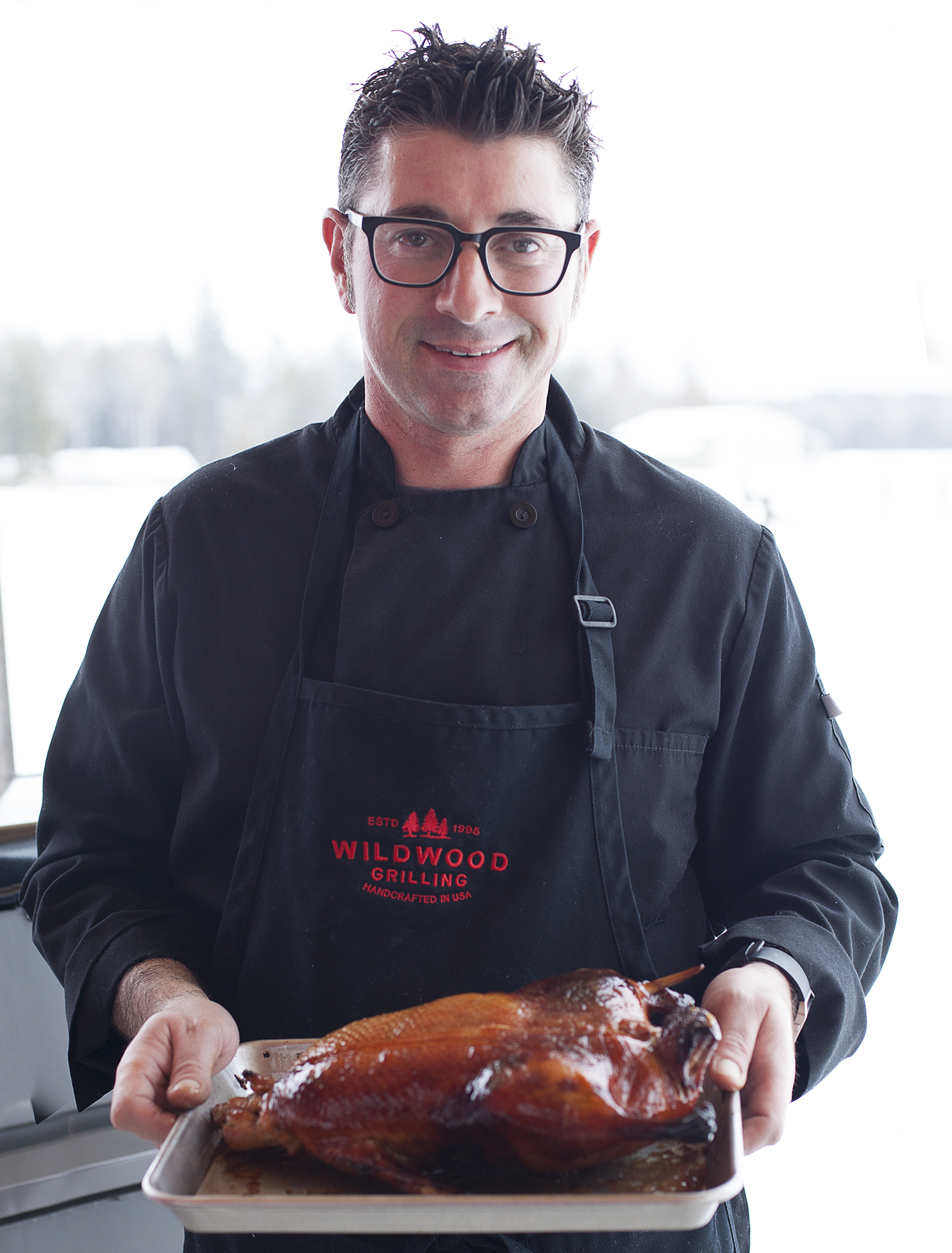 Planking involves heating food indirectly on top of a piece of soaked wood. As with smoking, different woods mean different flavors. The plank protects the food from direct heat and moisture-loss, while flavoring it with a light, fresh wood taste.
Though planking has been around longer than many modern cooking techniques, it's still catching the attention of cooks all over who continue to gravitate to the technique for its elegant simplicity and flavor potential.
Though you can technically cook anything on a wood plank, it's the classic cedar plank salmon that gets a lot of attention. That makes sense considering planking's ongoing popularity in the Pacific Northwest, where salmon is a mainstay of regional cuisine. Other countries have their own planking methods. In Finland, the traditional "loimulohi" preparation uses wood pegs to nail fish onto a plank that is then propped up and angled toward an open fire.
"Seafood and that fresh wood flavor really go well together," Matt said. "You're steaming it with a very aromatic steam."
Benefits of Planking
The flavor you extract from a grilling plank is more of a fresh flavor, as opposed to the heavier wood taste commonly associated with smoking and grilling.
For some diehard low-and-slow BBQ cooks, the subtle wood taste that comes from planks won't cut it on their palates. That, and you'll never get a truly good sear on a planked steak.
"A diehard meat cooker, a pit BBQ person, is probably not going to be sold on plank cooking," Matt said.
Yet the lighter taste is a selling point for others, who want a break from strong smoked food.
"It's a different process," he said. "The only way we could get someone into plank cooking who is into pit BBQ is to push the delicacy of seafood."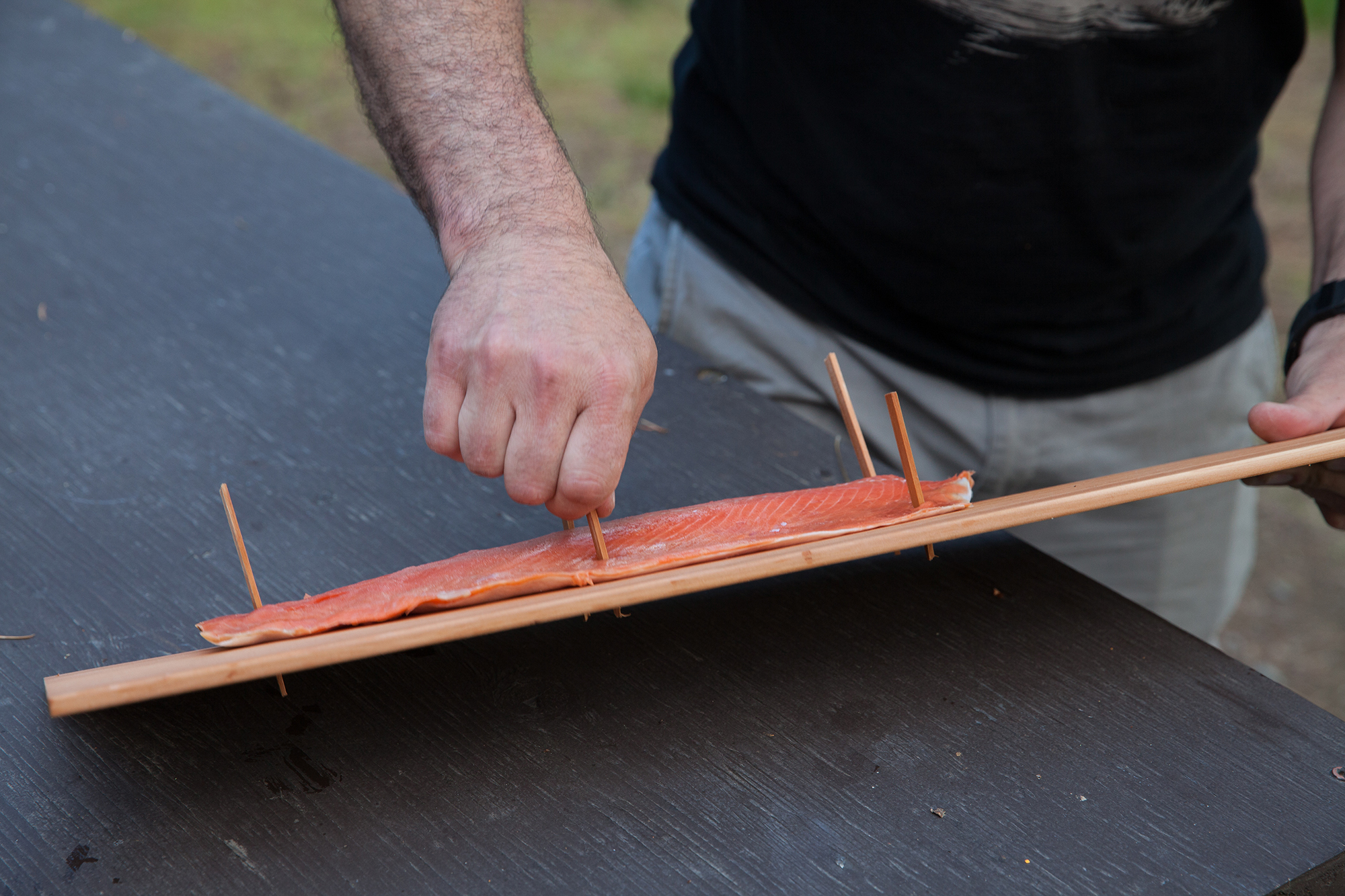 Apart from the aroma wood imparts on planked food, the cooking style is notable for being one that lends itself well to a healthy diet. Food on a plank is essentially steamed because of the moisture evaporating from the moist plank. So there's less oil involved in planking, which drives down the calorie count.
"It could be considered a healthier way of cooking," Matt said.
Besides flavor and health, planking provides presentation potential for restaurants, caterers, or even backyard cooks who want to impress at their next get-together. Serving food on a piece of wood, or wrapped in cedar, is an attention-getter.
"It makes for some awesome presentation," Matt said.
"These forms of cooking are going back to our roots. It's a very basic form of cooking. When it comes down to it we're dealing with rectangular pieces of wood."
History of Planking
As with a lot of historical cooking techniques, planking seemed to develop early on as a form of food preservation, Matt said. Over time, the traditional Native American cooking style evolved and become more about flavor than survival.
Planking been in and out of fashion for hundreds of years, according to NPR.
"Long before European settlers came ashore, Indian tribes throughout the country were roasting fish on aromatic planks of wood -- salmon in the Pacific Northwest, shad on the East Coast, whitefish in the Central Plains. They would split the fish, secure it skin-side down to a wood plank and place the plank vertically, facing the fire but outside the fire ring, to slowly cool," National Public Radio reported in 2006.
"Planking has been in and out of fashion in the centuries since then. Planked steak, for example, was 'one of the more spectacular dishes produced in this country until World War II,' writes James Beard. Planked salmon with a white sauce was a favorite of President Franklin D. Roosevelt."
Plank cooking's popularity has been relatively level for the last decade, according to Google Trends search data, but the overall trend of outdoor cooking has been continually rising. That leads Matt to believe that planking is set for another spike in popularity for live-fire cooks wanting to branch out from their own traditions.
Even though planking has been around for centuries, there is always someone discovering it for the first time, Matt said. Sometimes in surprising places.
"I always thought it would be hard to sell planks to anyone in Texas," Matt said about the state where beef is king and low-and-slow cooking is a way of life. "We sell more planks in Texas than anywhere else in the country."
Planking defies borders.
"I think we can sell planks anywhere, they're used everywhere," he said.
Photos courtesy of Wildwood Grilling
---
Ingredients:
Directions:
Light a fire about an hour before you plan to cook, we used maple wood.
Using a drill, make 5 holes in the Cedar plank with your largest bit. Drill one hole in the center towards the top and the other four below it, two on each side. The holes need to be spaced well enough to provide support for the salmon.
Take a Cedar skewer and cut it into 5 pieces, these pieces will be used to secure the salmon to the plank.
Remove any pin bones from the salmon.
Place the salmon on the plank over the holes, with the tail towards the top. Push the skewer pieces through the fish to secure it to the plank.
Season the salmon with salt and pepper. Use a brush to add a coat of maple syrup.
Place a log beside the fire and lean the plank against it so the salmon is facing the fire with the tail end up. Occasionally brush with more maple syrup.
Cook time depends on the heat of your fire and distance from the coals but expect to cook your salmon for 15-30 minutes. When ready the internal temperature should be 125°F.
Recipe from Wildwood Grilling. Find more recipes and cooking tips at wildwoodgrilling.com