Back to Products & Services
2022 NBBQA CONFERENCE VIRTUAL
Custom Purchases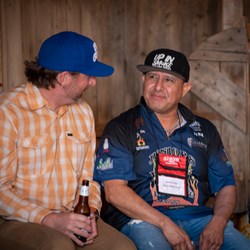 2022 NBBQA CONFERENCE VIDEOS/PHOTOS
See every session held during the 2022 National Conference in Fort Worth, TX

Here is where you can find every single event that happened during the 2022 NBBQA national conference that took place on April 3-5, 2022, in Fort Worth, Texas at the River Ranch Stockyards. These sessions were videoed to offer you the chance to see anything you might have missed out on.
All 18 sessions that made up the 2022 conference are here. Once you have access you can watch sessions at ANYTIME and start and stop the videos as needed.
Paid conference attendees will have automatic access to EVERY video and photo.
Members and non-paying attendees can access EVERY video and photo for $199.
Non-Members can access EVERY video and photo for $399.
(After purchase you will receive an email link to access the content page with videos)
Videos include the following sessions and classes:
Day 1 of Conference
Monday Keynote Speaker Randy Sutton
Trends In the Rub and Sauce Industry. How To Make Your Brand Stand Out in A Crowded Market presented by Old World Spices' Amy Jungk
American Lamb Baaa-utchery presented by Mary Humann of the American Lamb Board
Social Media Influencer Panel - Brooke Orrison Lewis, Brad Orrison, Moe Cason, Bob Trudnak, and Matt Pittman, and others
Southern Dimensions Food Truck/Trailer Panel - Nick Boyce, and Ozzie Valentin with SDG, Mike Massaglia with Messy Mike's, Jason Cottingham of TraumaHogs, and Stretch from Grinder's Pizza.
Meet the Masters Panel – Gather around and listen to this amazing group: Mark Lambert of Sweet Swine O'Mine Distributing and World Champion, Sunny Moody of Mood Swing BBQ and World Food Champion, Lee Ann Whippen – Celebrity Pitmaster, Judge, Competitor, Restauranteur, Radio Host, and Brand Ambassador, Shannon Snell – Sonny's BBQ Pitmaster and All American and NFL Football Player, and Brad Orrison – The Shed BBQ & Champion Competitor, Junior Urias – TV Celebrity, Texas BBQ Pitmasters Champ & 'Up in Smoke' Restaurant Owner, Bob Trudnak - Celebrity Grillmaster and Iconic BBQ Instructor, and Moe Cason - TV Personality, Celebrity Pitmaster & Judge, & Sauce & Rub Manufacturer.
Marketing Matters: Q & A with Industry Experts Brooke Orrison – The Shed, Monique Yeager – 4 Rivers BBQ, and Katie Tarhanas and Montana Coleman – Sonny's BBQ
Whole Hog Cooking Class with Danny Montgomery from Big D's Q sauces and rubs
AOE Awards
Day 2 of Conference
Tuesday Keynote Speaker Sunny Moody
Catering Class - Presented by Craig Carter
Charcoal 101 - Presented by Joey Machado
Membership Meeting
Ole Hickory Trouble Shooting and Maintainence - Presented by Mark Lambert
Products to Market Panel - Presented by BBQ Brands
How Our Restaurants Survived the Covid Pandemic - Bryan McLarty of 407 BBQ, Kent and Barrett Black from Blacks BBQ, and Dayne Weaver from Dayne's Craft BBQ
How We Made the Top 10 joints list in Texas - Presented by Panthers BBQ, a Top 10 BBQ Joint in Texas for 2021
HSBBQ Smokeout/Awards and Introduction of Participating High Schools - HSBBQ Cookoff - Meet an amazing group of Texas Teenagers as they compete against some of the finest adults in the BBQ World and get surprised by a great fund raising event while being introduced to conference attendees.
---