A Discussion with NBBQA Member Tom Lawrence
Date posted
November 17, 2021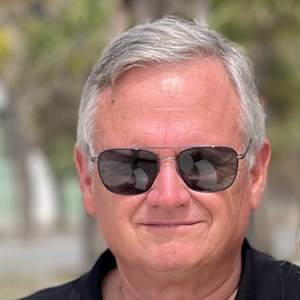 Looking over the NBBQA membership list there is a variety of expertise from which one can draw when looking for advice. If you have never taken a look, you should. You will find restauranters, distributors, food truck owners and more. There are also a multitude of members who may not deal with the day-to-day life of cooking BBQ or handling BBQ supplies. These members make up the digital side of BBQ, marketing, event planning and much more. The variety of professions and organizations listed under the membership directory places the NBBQA in the unique position of being an authority on all things BBQ.
We sat down, virtually speaking, with one such member, Tom Lawrence. His expertise is in sales and marketing, which he has spent over 40 years fine-tuning his skills. Making his home in Fairhope, Alabama, Tom has lived all over the United States as companies needed him and his talent. His passion for what he does has allowed him to climb the ladder to becoming the Vice President of Sales and Marketing for a well-known company. This passion, however, is not restricted to just his career and this is why he has joined the NBBQA.
Marketing and BBQ is about passion
When speaking with Tom one learns he is very passionate about his career and about BBQ. For Tom, what brought him a paycheck each week, wasn't a job, it was even more than a career, it was something he was passionate about. The way he would speak about techniques, creativity and the people with whom he worked over the years, displayed his love of what he did. The challenges which came with the sales, marketing and even getting in the door fed his creative spirit. Anyone who has been in this position can relate to him. When I asked him what he wanted to accomplish here, his answer was simple, "Help BBQ businesses to grow."
I asked Tom what he did away from the office and his answer was the one any of us would give, BBQ. As we were speaking, one of his contractors came in to begin his day building Tom's new outdoor kitchen. This passion for outdoor cooking has led him to make the grill/smoker the centerpiece for his outdoor entertaining. When I asked him who his BBQ influences were, his answer was unique but one I could relate to. He said his first influence was, "Myself." He related to me he was self-taught and still learning to cook every day. How many of us look at our grills and think it's just a passion we have for it, not passed down from father to son/daughter?
This passion for outdoor cooking stemmed from his love of the outdoors. The sunshine, breeze in the air and the smell of meat wafting through the air have continued to stoke his passion to combine his two loves, BBQ and Marketing/Sales.
Marketing and BBQ are about relationships.
When you get into the field of sales and marketing, building relationships is an essential component if you want to enjoy some success. This is more than just picking up the phone, introducing yourself, it is about cultivating a bond between you, your business and your customer. You believe in what you're selling, and you believe this person will benefit a great deal from it. Therefore, networking is vital. It's here where those relationships are not only built but cultivated. Tom related to me this is one of the reasons he was drawn to the NBBQA. Not only does he seek to help BBQ manufacturers build relationships with potential customers, but he also loves the relationships which already exist among the NBBQA membership.
Tom made mention of the online classes which the NNBQA provides in order to cultivate these relationships. We have also begun to have small networking opportunities such as the NBBQA cookoff which occurred this past weekend. Tom mentioned to me how vital building these relationships are. One can be creative and have the best marketing campaign, but if the relationship with potential customers isn't there, then it is for naught. Building relationships is at the core of what Tom does in both marketing and BBQ which he seeks to combine, professionally for others within the NBBQA.
Tips From Tom
When you have an expert such as Tom Lawrence at your disposal you have to ask him about tips. These tips you can apply today, which makes for a great tip. His first tip for us is so simple but also quite profound. "Don't forget the value of multiple touchpoints." The example he gave was junk mail or spam. No one liked going to the mailbox to get a fist full of junk mail, but study after study revealed the value of this to companies. People may glance at it before placing it in the dustbin, so that is one touchpoint. Commercials on TV and radio would be others. You have one message delivered multiple ways. One reason for this would be, people learn/observe in different ways. Another is the message is being seen by the potential customer every way they turn.
One more tip for us from Tom is, "Be consistent." Make a change when necessary and consistently market to people. This is where many businesses begin to fail or rest on their laurels. They are not being consistent when they promote what they offer. Once you start being inconsistent, there will be some other person or business to take your place.
Thank you, Tom, for sitting down with us to discuss your passions with us. If you would like to contact Tom to help you with your marketing, hit him up here, on his NBBQA profile, https://www.nbbqa.org/emerging-and-professional-members/tom-lawrence
If you would like to be featured in a future article or in the newsletter, please let us know at info@nbbqa.org