Educational Presenters
Listen to our wide range of educational speakers
View by Topic
See All Highlights Business Culinary Events Marketing Product
View by Presentation Type
See All Events Presentation Panel Demonstration Round Table
Key Note Speaker
John McPhee AKA "The Sheriff of Baghdad" | Main Events Room
Sergeant Major (ret) John McPhee AKA "The Sheriff of Baghdad" served a distinguished career in U.S. Army Special Operations for over 20 years, retiring in 2011. Better known for his call sign "SHREK", John created the S.O.B. brand to provide his knowledge to civilians, law enforcement, and militaries around the world.
John has spent his adult life in Special Operations and Special Mission Units. He has trained countless U.S. Special Operations forces, thousands of International Tier 1 Operators and Special Forces around the world. He is one of the handful of operators with over a decade of combat having served in multiple theaters from Bosnia and South America to recent war efforts in Iraq and Afghanistan.
He is a Master Instructor in all aspects of special activities, missions and operations. With over 10 years of private special activities consulting John is a Subject Matter Expert (SME) in: Special Activities, Operational Preparations, Limited Signature Operations, Reconnaissance, Singleton Operations, High Threat Dignitary Protective Services, Extreme Long Range, Designated Marksman, Advanced Precision Rifle Marksmanship, Combat Marksmanship, Live Fire CQB/CQC, Advanced Pistol Marksmanship, Advanced Carbine Marksmanship, Aerial Gunnery (Rifles, Shotguns, Aerial Personnel, and Vehicle Interdictions), Mechanical, Ballistic, and Explosive Breaching, Freefall Instructor Programs, Infiltration/Exfiltration Techniques, Ground Mobility, Unit Pre-Deployment Training, and Research and Development of: Soldier Systems, Weapons, Ammunition, Thermal and Night Optics.
---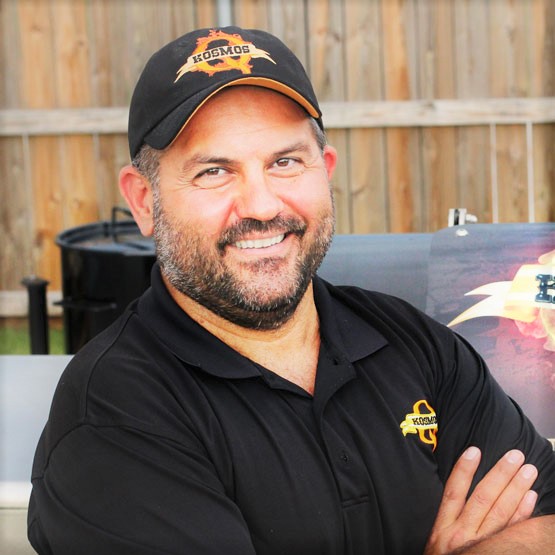 Long Road to Success
Darian Kosmo |
Highlight | Main Events Room
In 2009 Kosmo's Q was launch and 10 years later and a lot of work it is valued at over 10 million dollars!
Almost as amazing as this barbecue success story is the captivating personal journey of Darian himself. This will a bare-all presentation of the realities of life on the journey to success.
---
Meet the Masters - Sterling Smith
Sterling Smith | Main Events Room
Sterling Smith is the owner and pit-master of Loot N' Booty BBQ that started as a competition barbecue team in 2009. Since then the Loot N' Booty has grown significantly with their products and classes being experienced across America and the world.
Through the Meet the Masters panel, Sterling will share the learnings, trials, and successes of this his quick-growing brand along with others that are becoming the new generation barbecue masters.
---
Meet the Masters - Mike Johnson
Mike Johnson | Main Events Room
Hailing from a background in fine dining, Chef Mike Johnson launched his career under Emeril Lagasse before heading to Chicago's Charlie Trotter and Gabino Sotellino. Then on to Paris to train at the prestigious Le Buisson D'Ardent.
Today, Mike is the chef and owner of St. Louis' Sugarfire Smoke House, an award-winning restaurant that shines a light on Johnson's dynamic capacity. With fifteen locations (and counting), Sugarfire has consistently been ranked best barbecue in St. Louis and Chef Johnson continues to establish himself as a culinary master and renowned competitor.
---
Meet the Masters - Tim Scheer
Tim Scheer | Main Events Room
Most people know Tim Scheer from his incredibly successful competition barbecue team Shake 'n Bake BBQ, however, Tim is also the head of some equally successful barbecue businesses including Blues Hog, Gateway Drum Smokers, and the National Barbecue League.
He brings a diverse range of business skills to the panel discussion, including a strong media presence and an ambassador to some major barbecue brands.
---
Strategic Social Media Marketing
Ben Arnot | Presentation Room
Ben has had a phenomenal growth of his media-based business Smoking Hot Confessions based in Australia. Throughout this, he has been on a continual path of learning and now is ready to share that with fellow NBBQA members.
Ben will discuss strategic social media marketing and how to use it to accelerate your brand through efficient and deliberate content planning.
---
Key Factors To A Successful Event
Mike McCloud | Events | Presentation Room
Mike has taken a dream and turned it into reality with his amazingly successful World Food Championships which attracts competitors from around the world and is one of the largest food events in the world.
He will be sharing some of this wisdom with those NBBQA members who coordinate events as he outlines his keys to creating a successful event.
---
The BBQ Business Reality Check
Michael McDearman | Business | Panel Room & Round Table
Michael is an outdoor live-fire cooking spokesperson with a demonstrated history of marketing/strategic planning in the barbecue and grilling industry. Including skills in food & beverage, market planning, advertising, sales, and entrepreneurial solutions.
Be sure to join Micheal when he highlights common areas of improvement and the most common mistakes he has seen in the barbecue industry.
---
Future Trends in Barbecue
Michael George | Presentation Room
Formally trained in a wide range of culinary experiences from his parent's restaurant at nine to Executive Chef in Paris at EuroDisney, Michael is currently in Culinary Sales and Marketing with Ken's Foods.
"Food, like fashion, never stops changing - same with people & flavors," says Chef Michael. His job with Ken's Foods is to identify and share the flavors that people will want to eat tomorrow & next year. What could be more fun than that?
---
Competition in Barbecue - Panel
Chef Wade Fortin | Panel Room
Chef Wade Fortin has never met a culinary challenge he couldn't handle. An accomplished chef with a love for competition BBQ. He currently Heads the Marketing Department for BULL Outdoor®, traveling the country promoting BULL's premium line of outdoor kitchen products.
As both a competitor and sponsor within the barbecue industry Chef Wade will bring a different perspective to the discussion around the past and future of competition in the barbecue industry.
---

Change or Die!
Kell Phelps | Marketing | Presentation Room
Kell Phelps is synonymous with the Barbecue News Magazine publication run by him and his wife Janet. In 2020 they celebrate their 30th Anniversary in business.
A lot has changed in the delivery of news and marketing in general during this time. Kell will be sharing proven techniques of change that he has witnessed that will keep the doors open for decades and not just years. He will also be sharing with NBBQA members a quick walk through history, lessons learned and will peek into what trends could be happening tomorrow in the BBQ World.
---
Kentucky Barbecue Experience
Dewayne Poynter | Culinary | Demonstration Room
Dewayne is one of the leading barbecue talents in Kentucky, while quickly becoming a National personality with current television projects in progress.
Kentucky barbecue isn't quite like that found in other parts of America and he is excited to demonstrate and share this unique method with NBBQA conference attendees. Being able to give you a small taste of Kentucky and the knowledge on how to do it yourself.
---
Optimizing your NBBQA Membership
Saffron Hodgson | Presentation Room
We all want to get the best return on investment from all our purchases, the same with our NBBQA Membership.
Saffron runs through simple steps and shares information that will help increase your membership value with the NBBQA. This will in turn help expand your business and increase your barbecue network.
---